I was recently in Minneapolis visiting my dearest friends from college for the weekend. We ran, biked, coffee-d, and ate our way through my favorite Midwestern city. Also-we ran a half-marathon together! More on that later ;).
The morning of the race I noticed that many women had braids in their hair, and when my friend's roommate asked if anyone wanted french braids I swooned a little. There is something about braids that I just adore. Fast forward to it being Rosh Hashanah, where braided challah abounds, and I got an itching to braid some bread. My hair is too slippery if you will to hold a good braid, but bread dough? Bring it on.
I used half of King Arthur bread flour, and then a mish-mash of King Arthur white wheat, Bob's Red Mill oat flour, and a Neapolitan pastry flour for the other half. It was fun to mess around with several different types of flour, although I think keeping 50% bread flour gave it consistency. Regardless of what flour you use, keep an eye on the consistency and make sure it's not too wet or too dry. The slightly darker color on these loaves is partially due to the wheat flours.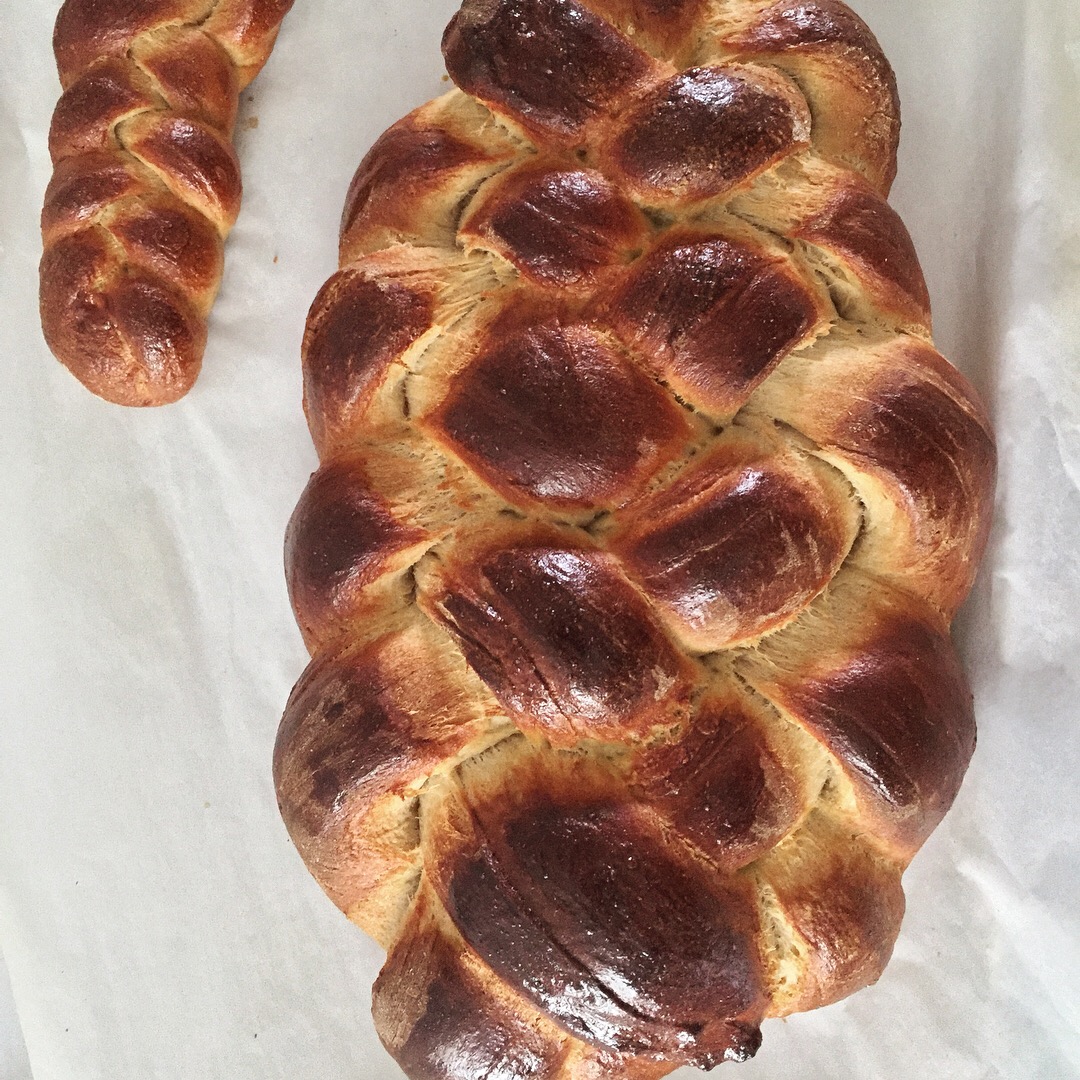 Take the scraps and make a tiny miniature loaf just for you ;)
BEFORE you braid your challah, watch the Bread Kitchen's video below to check out different braid techniques. I love how quickly she takes you through different bread braids quickly and efficiently.
INGREDIENTS
1 1/2 tablespoon of active dry yeast
1 3/4 cup warm water
1 tablespoon sugar
1/2 cup honey
1/2 cup grapeseed oil (or neutral cooking oil)
Dash of oil for greasing bowl
5 large eggs
8-8/12 Cups Flour
DIRECTIONS
1. Mix yeast into warm water and add 1 tablespoon of sugar. Let sit for five minutes.
2. Using a hand-whisk or electric mixer, whisk in the oil, and then the eggs, one at a time. Add in the honey and salt. Slowly add flour, switching to mixing by hand when it becomes too thick to whisk.
3. Take dough and transfer to a floured counter and knead by hand for eight minutes. Place in a large, greased bowl and cover with a cloth. Set in a warm place to rise for one hour. I put mine in my oven set to 'warm'. I shut it off after thirty minutes and the residual heat was enough to keep things cozy.
4. After one hour punch down dough, and let rise again for thirty minutes.
5. Now you're ready to braid. Watch the Bread Kitchen's youtube video again and then make sure your dough is divided evenly.
6. Braid your dough!
7. You can slice off the ends if they look messy and make a tiny braid (you can eat this one sooner). To make the ends look neat, you can tuck them under the dough.
8. Brush loaves with remaining beaten egg. Sprinkle on sesame seeds or poppy seeds if you wish.
9. Bake in middle of oven for about 35-40 minutes, or until golden brown. Your little piece of braided dough will be done about ten minutes before the large loaf. Wait as patiently as you can before digging in! This makes ***excellent*** french toast.